Learning analytics is the measurement, collection, analysis and reporting of data about students and their contexts, for the purposes of understanding and improving the quality of learning and teaching and the environments in which these actions occur. 
Student data for learning analytics is defined as that data which is created, collected or stored by the university and which could pertain to students' academic activity. 
Learning analytics can be applied to individual students as well as to defined groups of students (identified via combinations of characteristics and/or study behaviours), and to academic courses or programs (through observing behaviours and/or results of students in courses or programs).
Context
At the University of Saskatchewan, our approach is to gather information about our students' academic performance as well as demographic and activity data that could pertain to learning success.  In line with the institution's learning charter commitments, this data will be used to connect students with appropriate academic supports and services, to personalize their learning experience, and to improve our academic programs.
Learning Analytics work is conducted under the leadership of the Office of the Vice-Provost Teaching, Learning and Student Experience in partnership with Information and Communications Technology, Student and Enrolment Services, and the Gwenna Moss Centre for Teaching and Learning. 
Policies and procedures to ensure proper use of student data and to protect learner privacy are in place. 
Projects
RibbonTool Visualization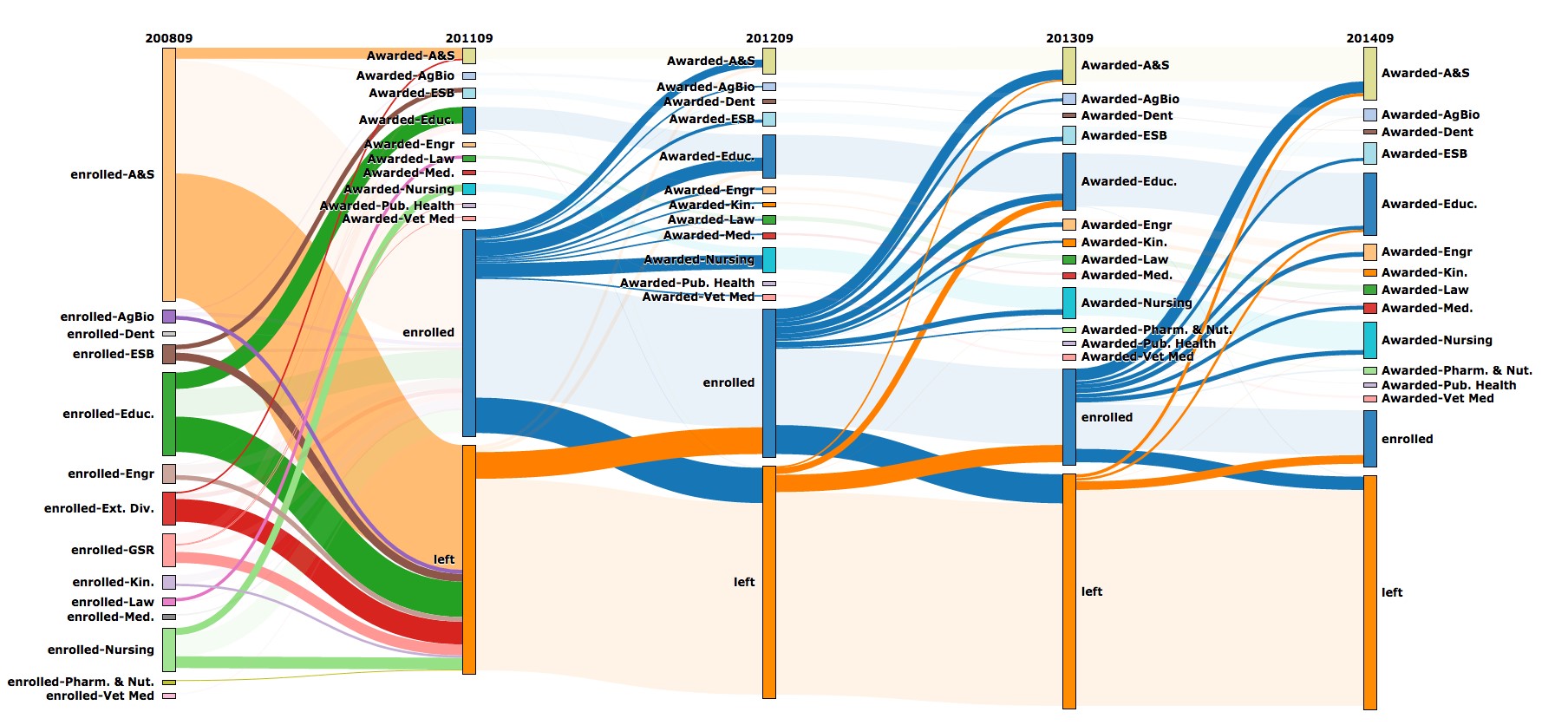 In partnership with universities associated with the BayView Alliance tools are being developed to track the movement of students in academic programs with an interactive visualization tool.  Using this tool, academic units can discover patterns and flows of students as they move from year to year in the university.  Student attrition and retention can be tracked, as well as student migration from one program to another.  Filters can be applied to determine differences and effects associated with demographic variables to discover, for example, whether the flows through a program are the same for female versus male students. 
Data sets for various clusters of students can be developed for exploration with this innovative tool. Administrators can use this tool to identify issues, concerns, and possible solutions to problems associated with student success and academic choices.
For more information view:
NSSE Analysis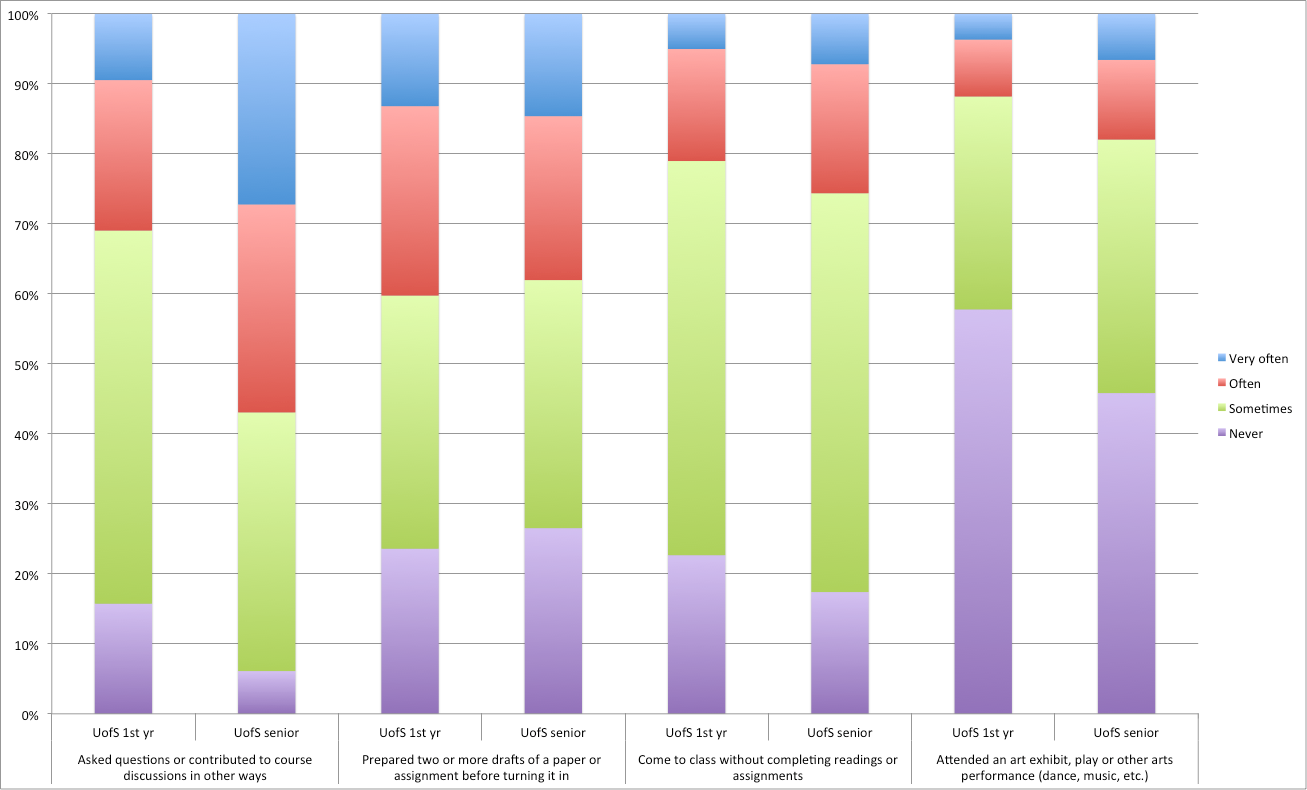 Every three years the University of Saskatchewan participates in the National Survey of Student Engagement, NSSE.  The rich data available from NSSE have been underutilized in recent years.  An initiative to help turn the information derived from NSSE into actionable change is being led by the Learning Analytics team. 
College-specific NSSE data is particularly useful to units planning program revisions or teaching innovations.  Data-informed and evidence-based decisions are easier to take with greater access to data.
The chart above shows just a few of the many information tidbits available in NSSE for the university overall and for many of our colleges.
Know Your Class Infographic
Since 2016, this infographic has been available to USask instructors. Instructors can access Know Your Class within their Canvas courses. It allows instructors to get a general sense of the demographic makeup of their class sections each term. It has been designed to provide this overall demographic information while protecting individual student privacy. To further maintain student anonymity, the infographic will only display relatively proportionally-sized bars without a vertical-axis and it will only display for class sections with 10 or more students enrolled. This type of information is helpful when designing and planning courses, especially during the Learner Analysis.
An example of how this information could be used by instructors is that they may learn that they have a large proportion of students registered from two colleges. In this case, it would be helpful to include examples and cases relevant to students in each of these colleges.
Entrance Census
The annual Student Entrance Census invites undergraduate students entering their first-year of studies at the University of Saskatchewan to complete a series of questions on enhanced demographics, personal approaches to learning, and plans for university study. The questionnaire is administered via email during summer months. Responses to the questionnaire are used to better understand the needs of incoming students, and ultimately, to design better academic programs and supports to meet student needs. SARA and Know Your Class both draw on the census data.
Know Your Students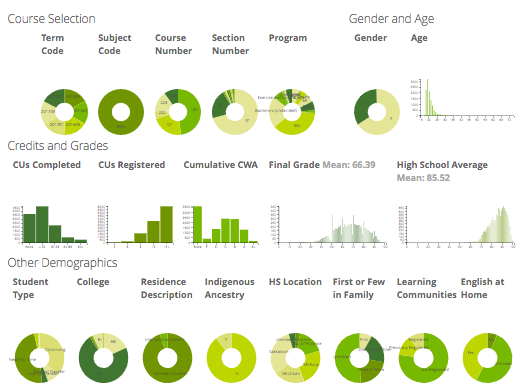 Know Your Students is a visualization tool for use in curriculum and program planning. It allows authorized users to view and drill down into data across a variety of variables, including student demographics, course, term, section, program, college enrolled, grade distribution, and more. Access to this dashboard requires permission of the Dean, Associate-Dean, or Vice-Dean of your College.
Privacy
Student data are securely stored in the University Data Warehouse. Student data may be created by faculty, instructional staff, advisors, administrators, administrative and instructional systems, and by students themselves.  Student data can include academic performance data, advising data, survey data, admissions and demographic data as well as activity data associated with university academic and administrative services (such as learning management systems, student response systems, network services, and card swipe systems). In addition, student data may include derived interpretations based on statistical models and patterns. Student data may be used for learning analytics with permission of the University Data Steward.
Student data for learning analytics does not include contents of email messages or other personal communications, discussion forum or social media postings, notes or written materials for which the student could claim copyright.  Data of this type will not be used for learning analytics work without expressed written consent of the student.
Instructors in courses are not privy to their students' personal or demographic data, nor to their students' academic history outside the course or predictions of success within the course unless permission is given by the student.  Instructors are not to discuss or disclose personal or academic information about students to other students or instructors. As such, instructors are limited in the scope of learning analytics work that they can do with their own students. 
Academic advisors are granted special access to personal, demographic and academic history data about students, and they follow a strict code of conduct to ensure that students are protected. Academic advisors frequently participate in learning analytics work.
Get Help
Office of the Vice-Provost, Teaching and Learning
If your college or department is interested in using learning analytics to improve student outcomes, please contact Nancy Turner, Director, Teaching and Learning Enhancement.
Project Team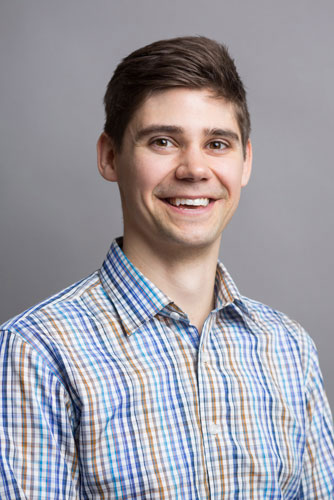 ---
---