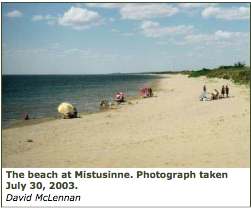 Resort Village, pop 56 (2006c), 31 (2001c), is located 8 km southeast of the village of Elbow off Hwy 19, on the northeast shore of the Gordon McKenzie Arm of Lake Diefenbaker. The name Mistusinne is derived from the
Cree
word
mistasiniy
, meaning "big stone," which referred locally to a large glacial erratic that was left lying on the floor of the Qu'Appelle Valley just east of the elbow of the South Saskatchewan River after the last ice age. The stone, thought to resemble a resting buffalo, is estimated to have weighed 400 tons and was a sacred site for millennia--not only to the Plains
Cree
, but to other First Nations who traversed the prairies. Two legends are associated with the stone's origins: one tells of an eagle soaring in the sky clutching a giant buffalo. The eagle suddenly dropped the buffalo to earth, and when people arrived, only the rock, shaped like the buffalo, was to be found. The other legend, recounted by Deanna Christensen in
Ahtahkakoop: The Epic Account of a Plains Cree Head Chief, His People, and Their Struggle for Survival 1816-1896
, is that the stone was once a man who had been raised by buffalo. As a baby, he had fallen unnoticed from his Cree parent's travois, only to be found and saved by a herd of the large mammals, who then looked after the infant until he was an adult. One day, when his buffalo father lay dying after a Cree hunting party had descended upon the herd, the young man vowed he would not flee the hunters anymore, and he was able to transform himself, first into a buffalo, and then into a rock, which then grew to a tremendous size. The stone became regarded as sacred, and people travelled great distances to the site; it became the setting for ceremonies such as the
Sun Dance
. In the late 1850s, Henry Youle Hind visited the area and measured the rock, determining it to be 79 feet (24 m) in circumference at three feet above the ground; a tape stretched over the highest point from one side to the other measured 46 feet (14 m). Hind also recorded that there were offerings to the Creator (
mâmaw-ôhtâwîmâw
in Cree) left at the rock--among these tobacco, beads, fragments of cloth, and other objects.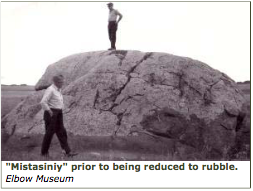 During the 1960s, when it became apparent that the stone would be submerged by the rising waters of Lake Diefenbaker, efforts were made to save the mistasiniy. A long campaign led by the late Zenon S. Pohorecky, a professor of anthropology and archaeology at the University of Saskatchewan, to move the rock to higher ground ultimately proved unsuccessful. Many believe a "quiet" decision was made to quell the lobby: on the morning of December 1, 1966, a crew from the PFRA (Prairie Farm Rehabilitation Administration) arrived with a reported 60 sticks of dynamite and reduced the millennia-old stone to rubble. Fragments were later incorporated into a cairn at Elbow Harbour and a memorial to Chief Poundmaker on the Poundmaker Cree Nation reserve in the Cut Knife area. The remainder now lies submerged. With the advent of Lake Diefenbaker as a recreation area, the present resort village, incorporated on August 1, 1980, began to develop. Today, the community of Mistusinne has 247 privately-owned properties, the majority for seasonal use, as well as a nine-hole golf course, a boat launch, and miles of sandy beach. Other than the golf course, there are no commercial developments at Mistusinne; the nearby village of Elbow offers a range of goods and services. The above population figure is that of the permanent, year-round residents; the number is many times higher during the peak summer months. Mistusinne is situated in the RM of Maple Bush No. 224.
Further Reading
McLennan, David. 2008. Our Towns: Saskatchewan Communities from Abbey to Zenon Park. Regina: Canadian Plains Research Center.