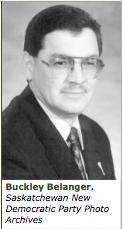 Early in the new millennium, Buckley Belanger stands out as a northern and Métis politician in the Saskatchewan political scene. After a controversial jump from the Liberal Party to the New Democratic Party (NDP), he distinguished himself as a trusted member of the Roy Romanow and Lorne Calvert cabinets. In various positions, he has acted as a powerful spokesman for northerners and Indigenous people.
Belanger was born on March 21, 1960, at Île-à-la-Crosse to Lena Ahenakew and Leo Joseph Belanger. On August 10, 1985, he married Rebecca Pederson. They have three children: Michelle, Kellie, and Taylor.
Success also accompanied Belanger's efforts prior to entering provincial politics. From 1980 to 1995, he pursued a variety of vocational and community interests. These included writing for the Indigenous publication New Breed, editing the Île-à-la-Crosse newspaper, and varied roles at Missinipi Broadcasting Corporation. Importantly, he helped a dozen northern communities establish radio and television broadcast facilities. Belanger also became president of his own company, Belanger Communications, and a finalist for the ABEX Business Award. An interest in northern government also grew. From 1988 to 1995, Belanger served three terms as mayor of Ile a la Crosse. He also sat on the board of the Saskatchewan Urban Municipalities Association and chaired the Northwest Saskatchewan Municipal Association.
Belanger's first election to the Saskatchewan Legislature took place in the 1995 general election as a Liberal member for the Athabasca riding. A New Democrat at heart, he resigned the seat and his membership in the Liberal Party on September 2, 1998. While other politicians also have "crossed the floor," few immediately resigned their seat and returned to the electorate for approval of their action. Belanger did so. In the by-election of October 26, 1998, Belanger won Athabasca for the NDP. He again won the same riding for his party in the next general election on September 16, 1999. Belanger joined Roy Romanow's cabinet as the minister of the Environment and Resource Management and associate minister for Intergovernmental and Aboriginal Affairs. He held the latter job until February 2001. While continuing as minister of the Environment and Resource Management, beginning in October 2001, he also served as the minister of Northern Affairs in the Lorne Calvert government. His responsibilities expanded further when he became minister of SaskWater in March 2002. In June 2002, Calvert reappointed Belanger as minister for the Environment and Northern Affairs portfolios. Belanger was re-elected in 2003 and continued his role in cabinet as minister of Northern Affairs.
As one of the first Indigenous northerners to hold office in the provincial government, Belanger's political career holds considerable significance. Given the breadth of his knowledge and experience, he has brought valuable insights to designing and implementing northern, environmental, and Indigenous programs. His position as minister responsible for key departments has allowed him to make a difference in the region of his birth.
David Quiring